Illustrator and Animator Needing A Portfolio
Carina is an illustrator and animator. Her style of illustration resembles those right out of a storybook. Her animation background makes her stand out more as a multi-talented creative.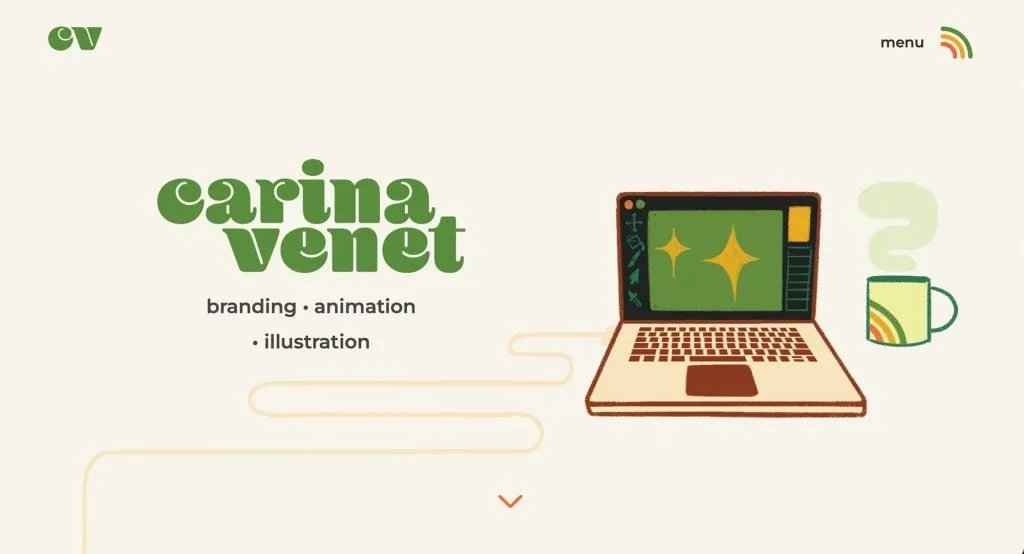 Updated September 2022:
Path Unbound was a fantastic resource that came along right when I needed it most. I was early on in my career, had lost my job in 2020, and had spent almost a year looking for a new one. My portfolio was all over the place – a couple projects I thought would appease recruiters, some animations, lots of t-shirt graphics, and even some sound design projects. I applied to hundreds of jobs as a 'jack of all trades' – someone that knew a little bit about a lot of things, and could learn new skills quickly. As you could imagine, I was pretty unsuccessful.
The Portfolio School program really helped me step back and think about what I actually liked to do. I knew that above all else, I loved to draw. Stella suggested I focus my skills as an illustrator, and to look for remote work. Curating my body of work and putting it into a portfolio site had felt like a monstrous task. Path Unbound broke it up into easily digestible steps. I loved learning how to use Webflow and creating my website from scratch, which allowed me to make every part of my portfolio feel uniquely my own. Stella was a great instructor who was always responsive and open to feedback. At the end of her program, I was given tons of resources, and the program has remained accessible for me to review as many times as I want.
The response I got from recruiters after I updated my portfolio was night and day. I started receiving offers – yes, multiple! I just hit the year mark at South By Sea, where I work as an illustrator and custom apparel designer. Now I have a huge body of work that reflects my design sensibilities, illustration skills, and personal style. I plan to update my professional package for years to come using the format and structure that Portfolio School provided me. The best thing I learned from Path Unbound is a sense of confidence in my work – I don't have to be a jack of all trades anymore. I can just be me!
Original Feedback:
I had tried for months to remake my portfolio website on my own – but I kept feeling lost, and unsure of myself, and my portfolio didn't feel like 'me'. Path Unbound was a perfect opportunity. I really enjoyed the buildup to the actual site building, which included identifying my best strengths, creating my own brand, and learning the skills needed to make something look polished. The weekly curriculum and set tasks held me accountable, and Stella had great feedback at every step. Learning Webflow was a great tool that I can add to my resume, and there were great resources at the end of the course. I also appreciated how to open Stella was to feedback about the course and has changed certain steps to better help future students.
The only thing I will say is – it was a lot of work. For me, it was definitely more like 3-4 hours a day instead of the estimated 1-2. I'm sure some people would be able to put in the estimated 10 hrs/week and be fine, but I'm not sure I would have completed the course on time if I had a full-time job. That being said, it shouldn't deter you from the course. They were always very understanding with deadlines and if I needed extra time. I highly recommend this program.
Want To Produce Amazing Work Like This?
Apply to be a student at Path Unbound today.